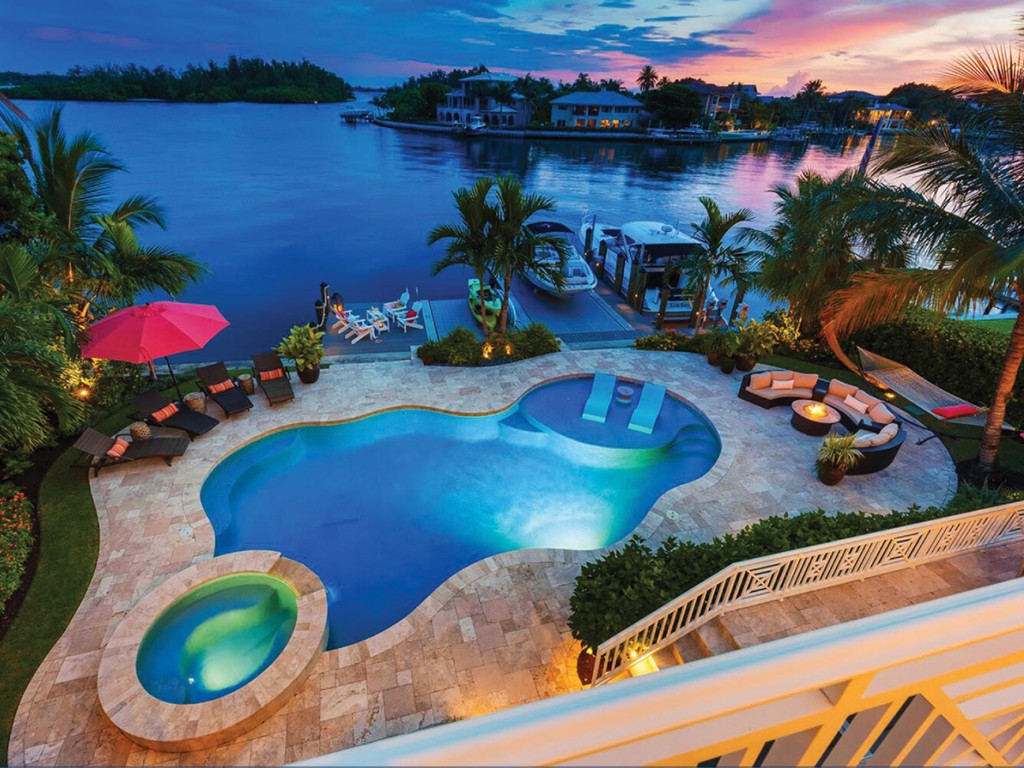 The busy season is in full swing as we enter into March. The sun is shining, the sea temps are warming up, and there are lots of seasonal visitors and snowbirds enjoying the best that Sarasota has to offer. Please take a moment to check out my video (below) outlining my thoughts on the Sarasota real estate market and where it might be heading.

---
FEBRUARY 2022
MARKET UPDATE
BEV MURRAY
I thought I would just do something a little different this month, and give you a brief overview of the current real estate market and try to perhaps answer the question that a lot of people are asking me on a daily basis, which is, "What on Earth is going on with this real estate market?" Well, it's a very valid question. I think that we are experiencing market conditions that we haven't seen, certainly I haven't seen in the 23 years that I've been doing real estate here.
If we look at the stats for January 2022, we are still experiencing what can be classed as a super seller market. We have about two weeks' worth of inventory on the market. Prices for single-family homes in Sarasota County are 36% higher than they were this time last year, but I think one of the stats that's most important to keep an eye on and be aware of, whether you're a buyer or a seller, is that there are 57% fewer homes on the market now than there were a year ago. That means that there is continued pressure on home buyers to try and get into the market and find an affordable home.
However, it is interesting to note that in January, for the first time in many months, we had more new listings come onto the market. We've closed sales. It's way too early to establish this as a trend, but it could mean that finally, inventory is starting to catch up, and that sellers are now fully aware that this is the best time to sell, so it may be that we start to see... This could be the beginnings of the market leveling out later in the year.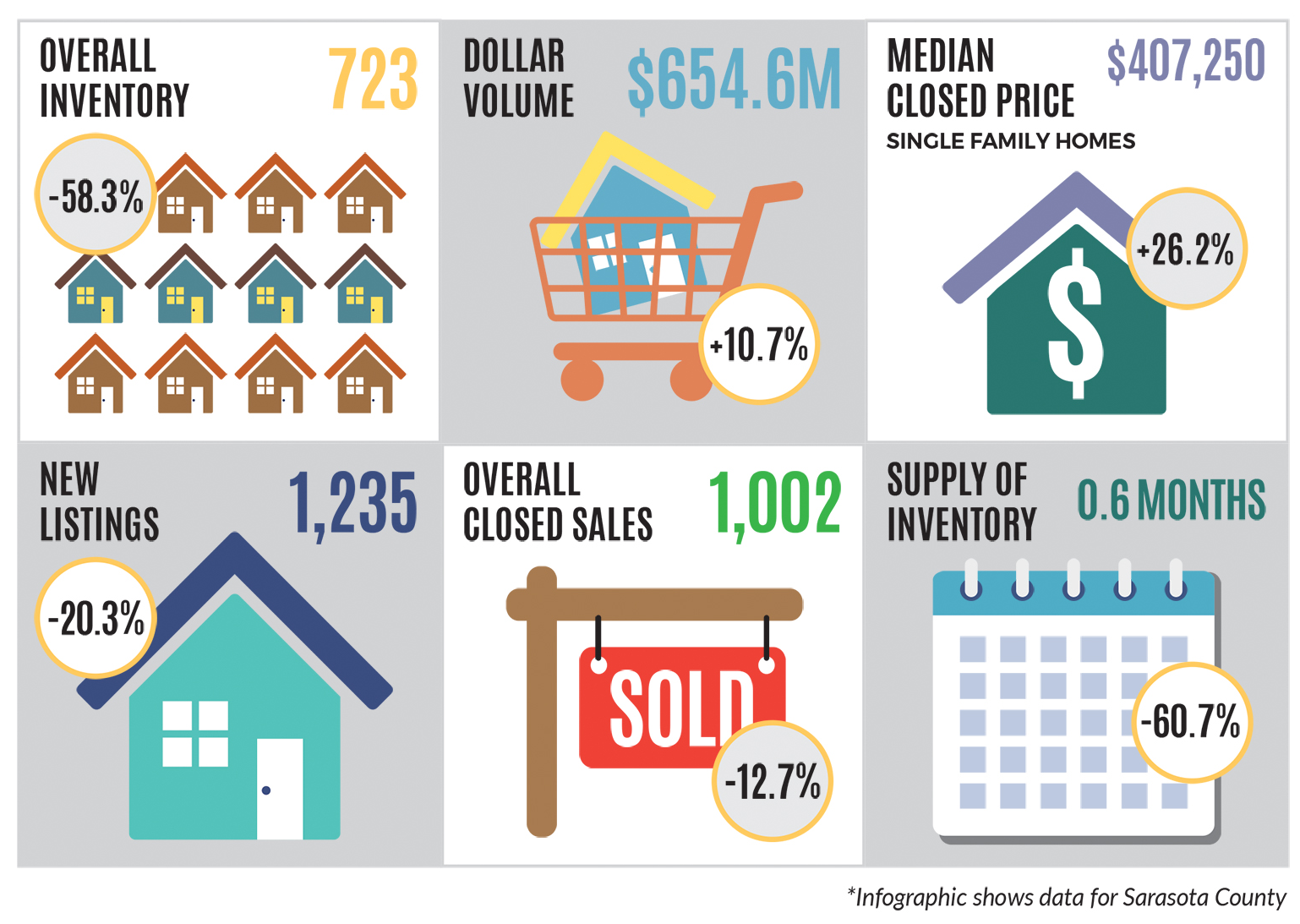 At the end of January there were 1,348 properties for sale in Sarasota and Manatee Counties, a decrease of 6.4 percent from the previous month and a staggering 54.6 percent decrease year-over-year. We are down to a 18 day supply of inventory, which means that at the current absorption rate, if no new properties came onto the market, everything would be sold out in just over two weeks. In contrast, a balanced real estate market is typically 4-6 months worth of inventory. So, we do have a long way to go to redress the balance. Of note, in January there were more new listings than sold properties, and if this continues into February and March, it may be a sign that the market is starting to level out.
---
PENDING
7090 WILD HORSE CIRCLE I SARASOTA, FL
Private and oversized 2 acre lot. The expansive front yard gives it the feel of a country estate. Beautiful landscaping and an ideal location allows for privacy and quiet. Inside, you won't be disappointed. This home is in a great school district offering Sarasota's top schools.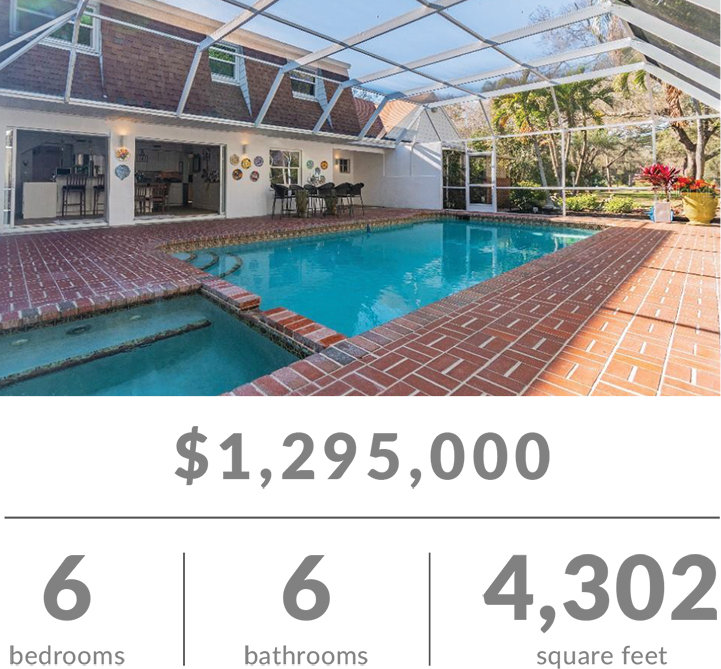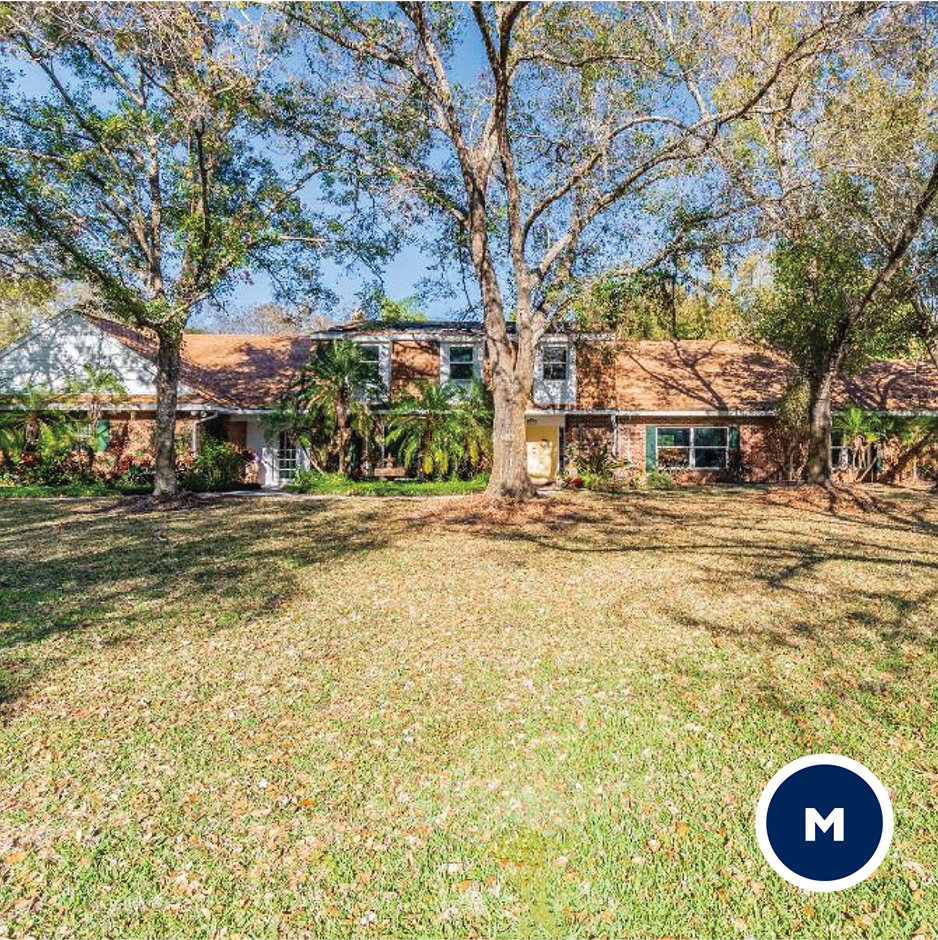 ---
PENDING
7564 RIDGE ROAD I SARASOTA, FL
This lakefront home in the Stonebridge community of Palmer Ranch is waiting for your finishing touches! This split plan 2, 575 sq ft home has 3 bedrooms, 2.5 bathrooms, front office/den, breakfast nook with separate formal dining room, with lush landscaping, original condition and one owner.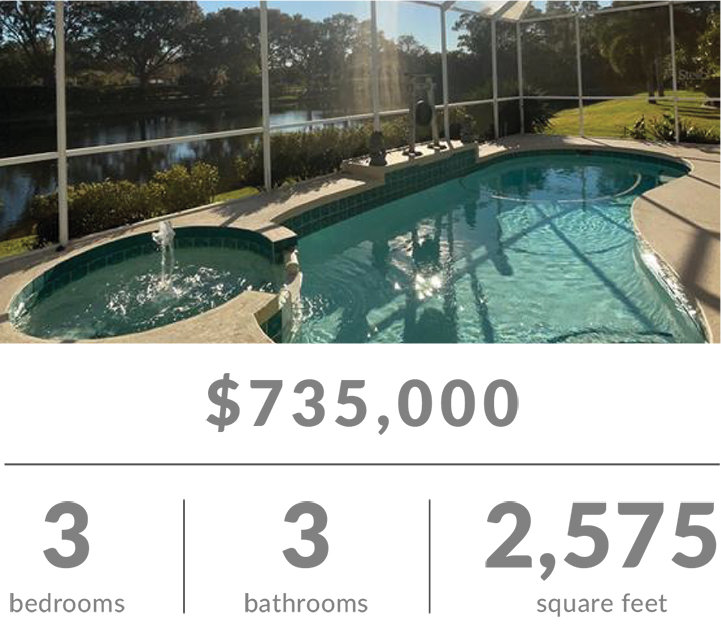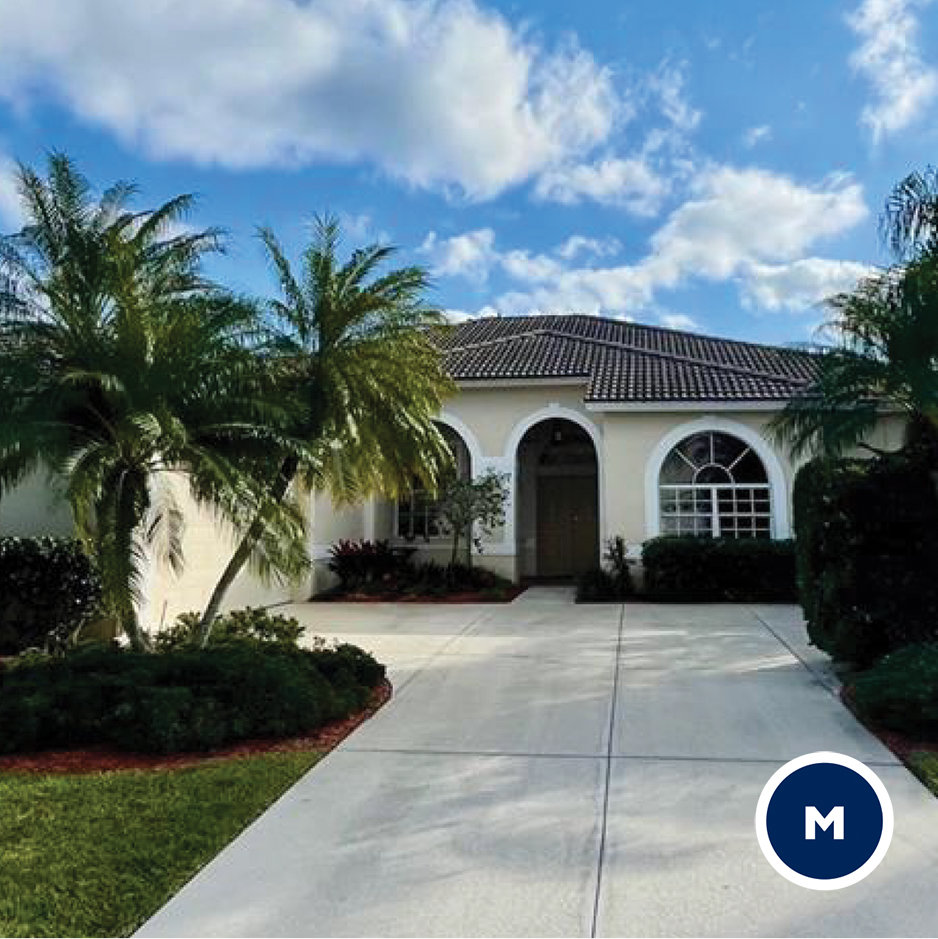 ---
OUR NEW
WEBSITE
MURRAYGROUPUSA.COM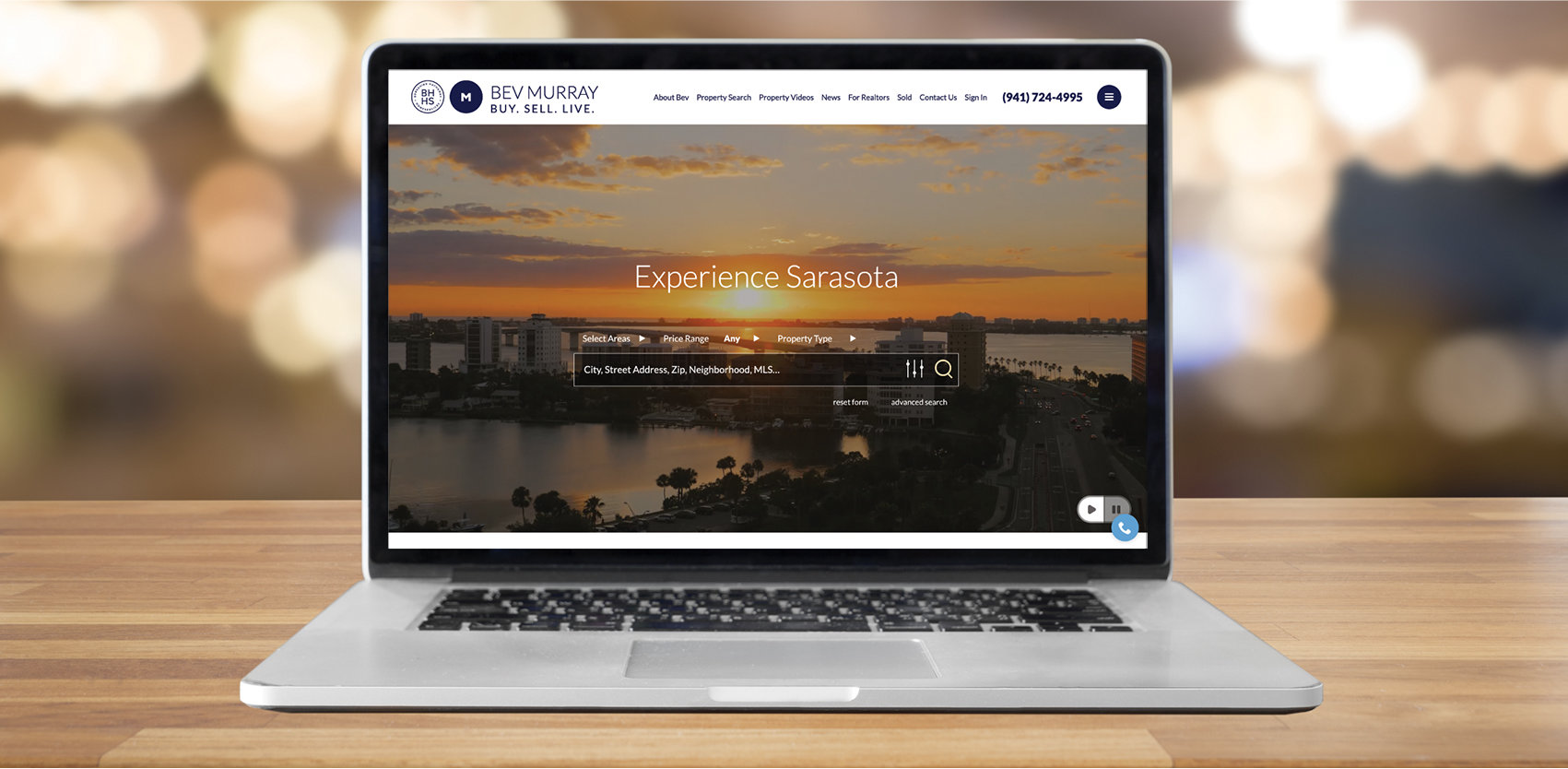 After months of painstaking planning and behind the scenes development, I am proud to unveil my new website, which has been completely redesigned to align today's demand for lightning speed downloads and a high quality user experience. One of the best features is the enhanced search capability, which will allow clients to search with parameters that most of the large real estate platforms do not provide. More on this in a future issue, but in the meantime I encourage you to go online and take a look at murraygroupusa.com
---
WELCOME TO THE TEAM
LOUISE BECKWITH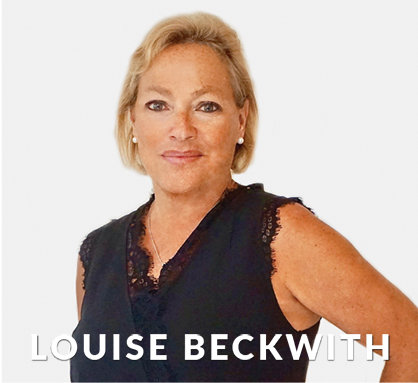 We are excited to welcome Louise Beckwith to our team. Born and educated in England, Louise worked for Hamptons International, gaining valuable sales experience in the luxury real estate market. Louise has traveled extensively and lived for several years in Germany and Cyprus.
Moving to the United States in 2000 with her military husband, Louise worked as a Pre-K and Kindergarten teacher in Virginia Beach, VA, before moving to Sarasota in 2020 and obtaining her Florida real estate license.
---
FEATURED
NEW DEVELOPMENT
PENINSULA, SARASOTA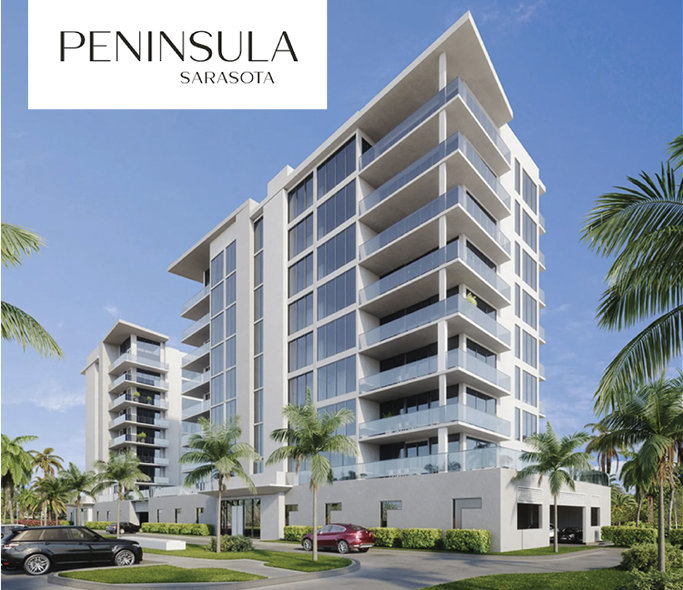 Nestled on Golden Gate Point, only a short stroll from the excitement of downtown Sarasota, Peninsula Sarasota, will feature 23 luxury residences (one or two per floor), each exuding contemporary, modern design and featuring high ceilings and wrap-around terraces that maximize the beauty of spectacular water views.
To learn more about this exclusive offering, contact Bev - bev@murraygroupusa.com
---
KUDOS
Bev is honored to be 5th in the top sales professionals for Berkshire Hathaway HomeServices franchise network in the state of Florida.
"I am proud to be part of a strong network of talented agents whose market knowledge and insights help me service my clients better."
From first time homebuyers to high-end residential markets to middle-market communities to commercial real estate, our franchisees are down to earth, nimble and local experts.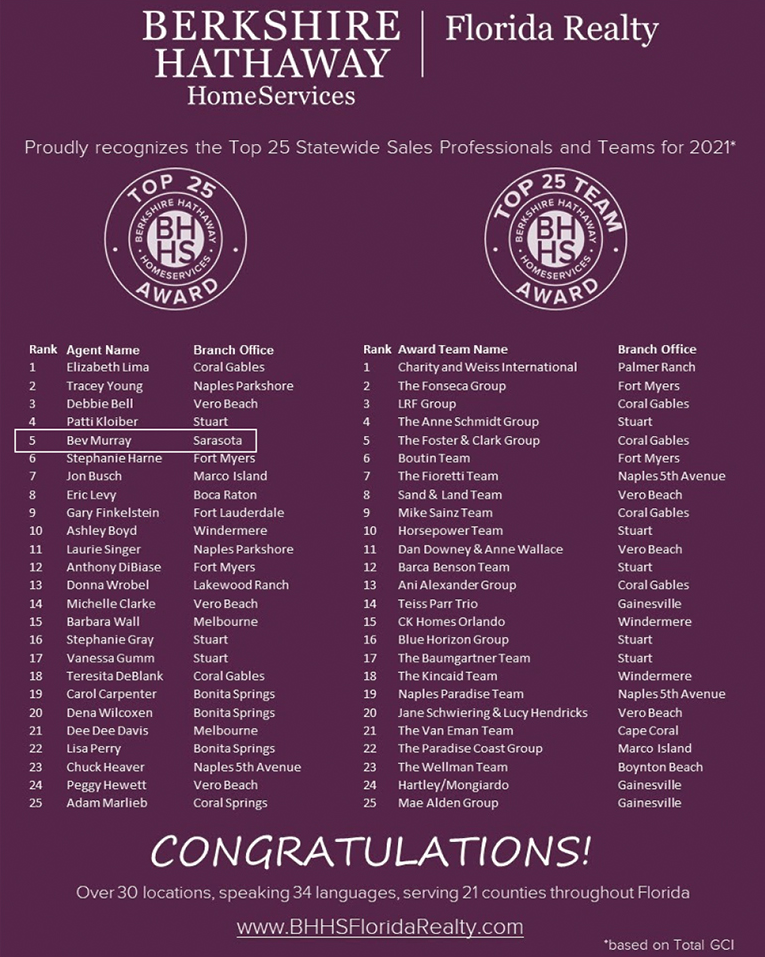 ---
SENIOR NIGHT
SARASOTA HIGH SCHOOL
A celebratory "Senior Night" for #18, Jack Murray, and his teammates from the Sarasota High School varsity soccer team before he heads off to FSU later this year to study business and psychology. Go Jack!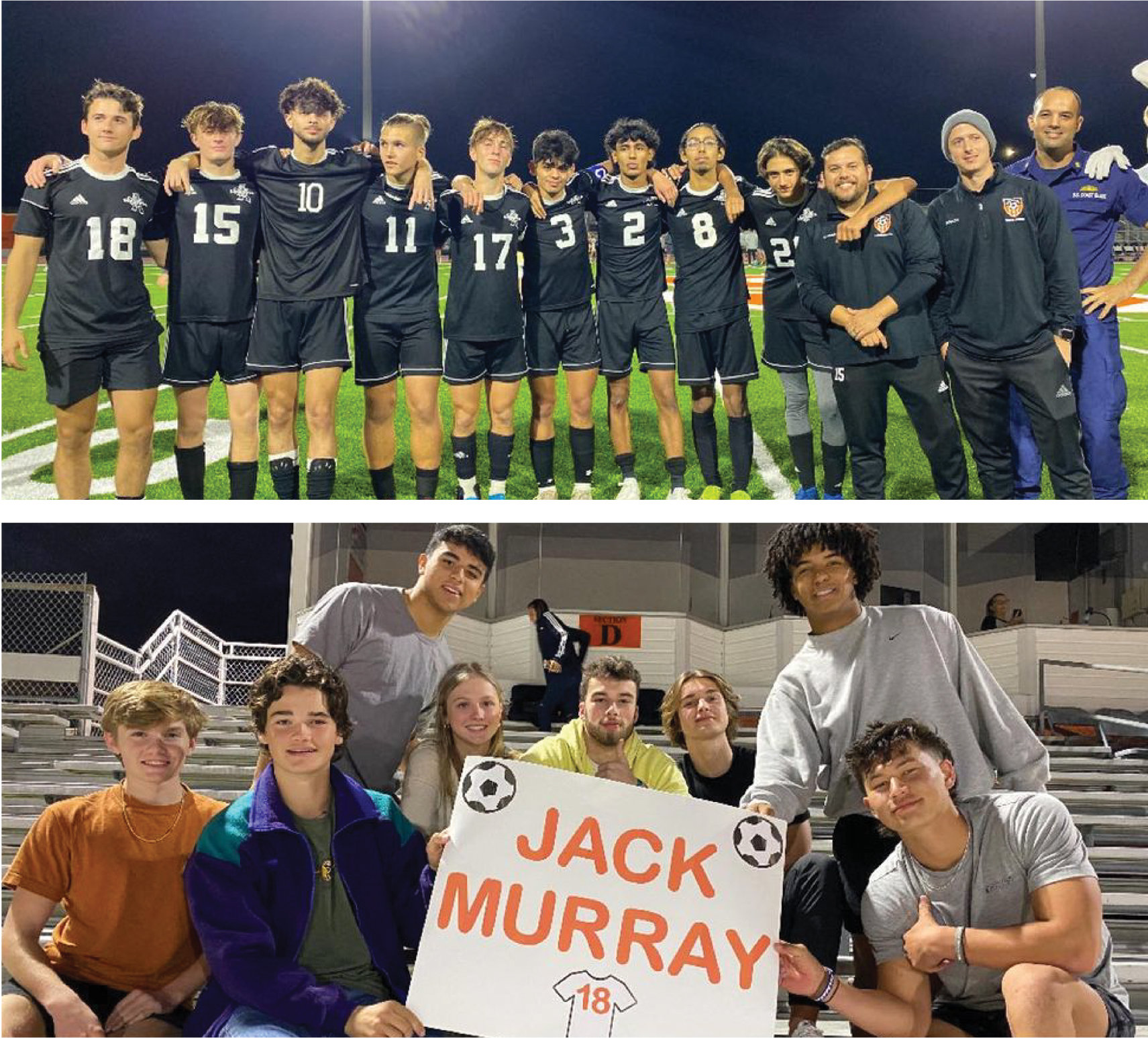 ---
ABOUT
BEV MURRAY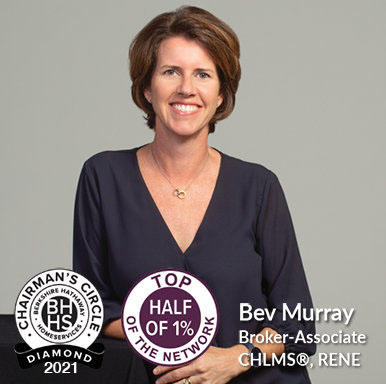 Bev Murray has worked as a highly successful realtor in Sarasota since 1999. Specializing in residential, vacant land purchasing and development sales, she was ranked for 2021 in the top 1/2 of 1 percent of over 50,000 Berkshire Hathaway HomeServices agents nationwide. Contact Bev today to assist with your next home sale or purchase. 941 724 4995 or bev@murraygroupusa.com