SELL . BUY . LIVE. 941.365.1837
Message From Bev
Happy New Year To You All!
Real estate tends to pause for breath for a couple of weeks over the holidays – many people find it too stressful to list their house in the run up to the holidays, and families often put their home search on hold in favor of travel and time with family. But come January 1, the phones start ringing and requests for showings start flooding in. It is the season, after all!
As we step into 2016, I thought you might like these quickfacts about Sarasota County. Some of them are surprising (only a 3% rise in population? – how does that explain my inability to ever find a parking space?!); others are troublesome(poverty rate), and some are just interesting factoids to pass on to our influx of seasonal visitors…
Sarasota Quickfacts*:
| | |
| --- | --- |
| Population estimate | 318,860 |
| Population increase from 2010 - 2014 | 3.3% |
| Number of people under 18 | 23% |
| Number of people aged 65+ | 14.5% |
| Females | 51% |
| Housing units | 134,000 |
| Owner-occupied housing rate | 64% |
| Building permits | 1,046,000 |
| Number of households | 116,200 |
| Language other than English spoken at home | 21% |
| High School graduate or higher | 86% |
| Bachelor's degree or higher | 29% |
| Persons without health insurance | 12% |
| Persons in civilian labor force, age 16+ | 64% |
| Mean travel time to work (2010-2014) | 26 minutes |
| Persons in poverty | 15% |
| Median household income | $53,500 |
| Total employment change 2012-2013 | 2% |
*Source: US Census Bureau. Figures are rounded and refer to 2014, unless indica
Featured Listing
This is an incredible opportunity to own a completely updated, beautiful west of the trail home in the highly sought after IndianBeach/Sapphire Shores neighborhood. The 3 bedroom, 2 bath house has been beautifully updated by the current owners who have a keen eye for design and have transformed the living area into a stylish yet functional space. The well-proportioned kitchen has Viking appliances, a dark granite countertops and solid wood cabinetry. The master bedroom has a large walk in closet which is also used as a home office. The third bedroom could be re-purposed as an office or family room. A great deal of thought and money has been put into the landscaping all around the house. The exotic shrubbery, winding pathways and artfully designed patio and outdoor living areas offer privacy and serenity to the surroundings. The detached one car garage is now used as a storage space. There is a play set and a utility shed in the back yard.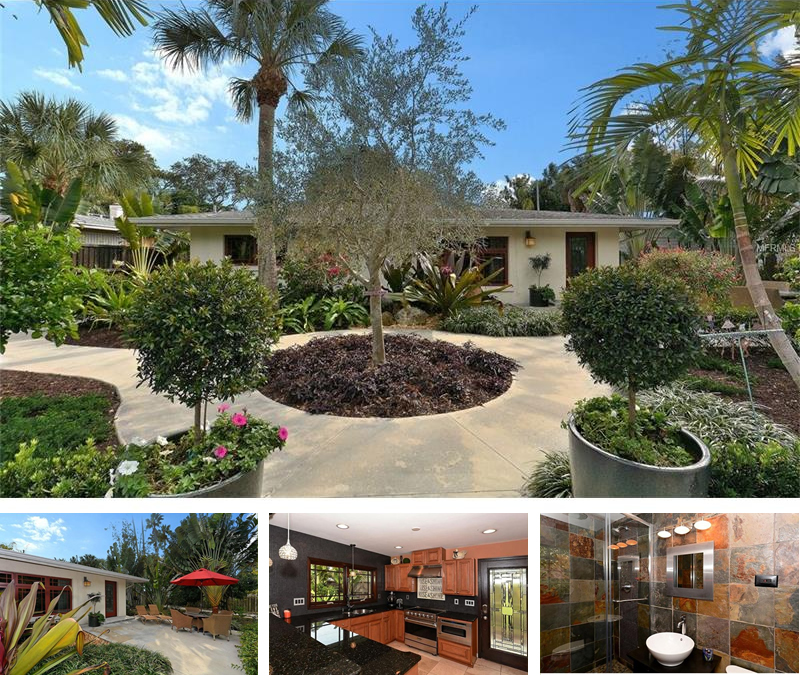 There is room for a pool and opportunities for expansion of the existing footprint of the house at the back of the property. This house is situated two doors down from Sun Circle bayfront park where neighbors like to bike, walk, and bring their dogs to enjoy sunsets at one of two bayfront parks. The Ringling Museum, Asolo Theater, New College, SRQ airport and Jungle Gardens are just a few of the amenities on the doorstep. Downtown Sarasota is 2 miles away and the new UTC mall at University and I-75 is a short 10 minute drive.
Murray Homes The Resolute Featured In Home and Design Magazine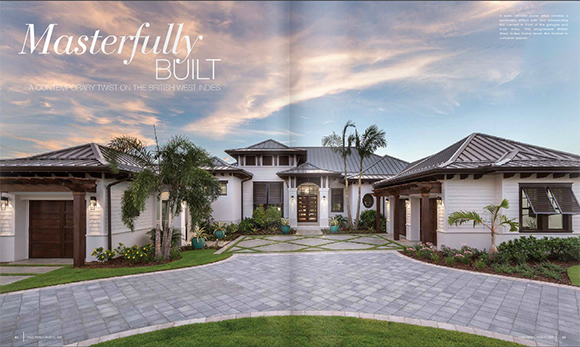 The annual resource guide, which showcases the suncoasts most stunning homes and the latest design trends from leading designers and architects, described the The Resolute as a "Progressive West British Indies home leads the market in curb appeal."
The 10 page feature article goes on with comments from members of the design team, as well as from Murray Homes President Steve Murray, who said this about planning the new flagship home, "Rather than design a house that we thought was pretty, we did research on the market place to discover what people were looking for in a home. They wanted an architectural style is very progressive inside and out. There is a reason why every angle is there."
Read the complete article here or view a digital copy of the Home and Design 2016 Resource Guide here.
Murray Homes and The Murray Group Collect Food Donations For The Needy
Murray Homes and Luxury Real Estate Broker The Murray Group Collect Hundreds of Pounds of Food For the Needy At The Resolute Model in The Lake Club.
Held in Lakewood Ranch at the luxury home builder's latest model home located on Staysail Court in the Lake Club, staff, friends and family brought a wide variety of food donations to help support those in need.
Bev Murray stated "While the economy has improved and brought more prosperous times for some, many people are still in need and have difficulty getting enough to eat. Some have a hard time providing for young families while many seniors in our community must choose between expensive medication, paying utility bills or having enough to eat. While our donation is a drop in the bucket compared to the need, we feel it is important for businesses to support their local communities. I want to thank everyone who attended our celebration and contributed to support Children Healthy Pantry."
Real Estate Market Update
Record breaking sales in 2015!
As predicted, December 's sales figures pushed 2015 into the record books for the greatest number of residential real estate transactions since records began. There were 929 home sales in Sarasota County in December. The median sales price for single-family homes year on year increased by 23% to $239,900, the median days on the market was a very speedy 33 (reasonably priced homes sell quickly in this market!). The number of distressed sales is down 49 percent on last year – that is great news. The number of homes under contract in December was 12 percent lower than December 2014, which is interesting. This could be because of the decreased inventory, which is still hovering around the 3-4 month level.
Whilst sales volume is at its highest level ever, values are still markedly below the peak of the market in 2005 (see table below). Money is much cheaper, though, which is good, and properties are moving relatively quickly.
| | November 2015 | November 2005 |
| --- | --- | --- |
| Median Sale Price - Single Family | $228,000 | $372,000 |
| Median Sale Price - Condos | $199,000 | $282,000 |
| Number of Homes Sold - Month | 540 | 349 |
| Number of Homes Sold - Year to Date | 19,020 | 8,327 |
| Interest rate: conv. 30 yr. fixed | 6.33% | 4.125% |
Single Family Homes
| | December 2015 | December 2014 | % Change |
| --- | --- | --- | --- |
| Closed Sales | 661 | 659 | 0.3% |
| Cash Sales | 289 | 325 | -11.1% |
| Pending Sales | 440 | 501 | -12.2% |
| New Listings | 750 | 780 | -3.8% |
| Median Sale Price | $239,500 | $195,000 | 22.7% |
| Median Days On Market | 33 | 44 | -25.0% |
| Active Listings | 2,620 | 2,696 | -2.8% |
| Month Supply of Inventory | 3.8 | 4.1 | -8.6% |
Condos and Town Homes
| | December 2015 | December 2015 | % Change |
| --- | --- | --- | --- |
| Closed Sales | 268 | 270 | -0.7% |
| Cash Sales | 185 | 177 | 4.5% |
| Pending Sales | 192 | 190 | 1.1% |
| New Listings | 356 | 342 | 4.1% |
| Median Sale Price | $217,000 | $177,500 | 22.3% |
| Median Days On Market | 42 | 45 | -6.7% |
| Active Listings | 1,277 | 1,290 | -1.0% |
| Month Supply of Inventory | 4.1 | 4.3 | -6.2% |
News & Events
Sarasota Mardi Gras Festival
New Orleans' favorite delicacies and cocktails. Various family activities. Free event
When: Feb 5 - 7
Where: Payne Park. 250 Adams Lane. Sarasota
Sarasota Music Half Marathon
The second annual Sarasota Music Half marathon with big crowds, great bands, beer, gourmet post-race brunch… For more info or to register, visit www.sarasotahalf.com
When: Sunday, February 7th at 7 AM
Where: Van Wezel Performing Arts Center 777 N Tamiami Trail
Sarasota Orchestra presents All About Mozart
When: Sunday, February 7th at 2:30 PM
Where: Van Wezel Performing Arts Center 777 N Tamiami Trail
The Book of Mormon
The nine-time Tony Award-winning Best Musical from the creators of South Park
When: Feb 9 through Feb 14
Where: Van Wezel Performing Arts Center 777 N Tamiami Trail
Circus Sarasota Winter Performance
An international, all-star lineup of circus artists with an unparalleled array of thrilling acts
When: Feb 13 through Feb 28
Where: 140 University Center Drive, SE of UTC Mall. Sarasota
Color Vibe 5K
Limited number of spots still available. $30 resgistration
When: Saturday, Feb 20
Where: Nathan Benderson Park. 5851 Nathan Benderson Circle. Sarasota