view as web page
SELL . BUY . LIVE. 941.365.1837
Message From Bev
2014 has sped by at an alarming rate and we are already looking forward to the New Year with a sense of excitement about all the new real estate projects we have coming up. We look forward to bringing you news of those in the next few months.
In the meantime, the team at The Murray Group wishes you all a Merry Christmas and the very best of the holiday season, however and wherever you celebrate it.
Custom Marketing On All Devices
The National Association of Realtors reports that 90% of buyers looking for a home search on the internet. Buyers want to easily access as much information about a property prior to narrowing down their hit list of potential homes to view. Home buyers are not only looking for home photos, floor plans, square footage… but also area information: neighborhood, schools, proximity to various amenities…
In our efforts to keeping up with market trends and clients' needs, The Murray Group has developed a premium marketing package that is offered to all of our clients.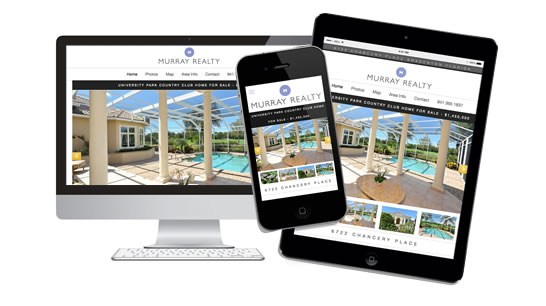 When you list your home with us, you benefit from your unique website that is dedicated to your property. Your property's physical address is the website url and all the pertinent information homebuyers are looking for is included and regularly updated as needed.
Here is one of our listings 6722ChanceryPlace.com
If you'd like to take a tour of the 6722 Chancery Place home, contact us today or come to one of our open houses held every Sunday 1-4.
Holiday Decorations Are Beautiful - Just Not In Your Listing Photos!
The holiday season brings a lot of wonderful times to Sarasota, the boat parade, company parties, cooler temperatures and of course, lovely decorations.
However, for many who have decided to put their home for sale during the season to be jolly, remember to leave out the all those decorations while the photographer is in.
Having your property photos taken while beautiful decorations are up may seem like a wonderful idea while the spiked eggnog is flowing, but those photos with wreaths, poinsettias and Christmas lights will have a potentially harmful effect if your home is still on the market after the holidays are over.
read more
Real Estate Market Update
Will this be the biggest year on record? October's sales figures topped 1,000 units again. If November and December are as busy current pending sales predict, then 2014 could achieve the highest number of residential real estate transactions that Sarasota County has ever seen.
Sales were up 23 percent over October 2013 and 8 percent higher than the previous month.
The median sales price for the 12 month period ending in October, which moderates monthly swings, was $196,000 for single family homes, an increase of 10 percent on last year's median. Condos are up 12 percent higher than last year's 12 month median sales price. Distressed sales (foreclosures and short sales) have almost halved since last year to remain steady at 10 percent of the overall market.
Inventory is still about 6 percent lower than last year but it has improved by just over 3 percent on last month.
Single Family Homes
| | October 2014 | October 2013 | % Change |
| --- | --- | --- | --- |
| Closed Sales | 723 | 587 | 23.2% |
| Cash Sales | 349 | 330 | 5.8% |
| Pending Sales | 564 | 585 | -3.6% |
| New Listings | 843 | 874 | -3.5% |
| Median Sale Price | $195,000 | $185,776 | 5.0% |
| Median Days On Market | 47 | 41 | 14.6% |
| Active Listings | 2,617 | 2,723 | -3.9% |
| Month Supply of Inventory | 4.0 | 4.4 | -9.4% |
Condos and Town Homes
| | October 2014 | October 2013 | % Change |
| --- | --- | --- | --- |
| Closed Sales | 288 | 233 | 23.6% |
| Cash Sales | 191 | 171 | 11.7% |
| Pending Sales | 209 | 235 | -11.1% |
| New Listings | 348 | 408 | -14.7% |
| Median Sale Price | $175,000 | $175,000 | 0.0% |
| Median Days On Market | 55 | 49 | 12.2% |
| Active Listings | 93.5 | 93.4 | 0.1% |
| Month Supply of Inventory | 289 | 346 | -16.5% |
Upcoming Events
Bradenton Blues Festival
This annual festival features music by top blues artists, food, drink, and various vendors. Proceeds support Realize Bradenton's youth, arts and music programs that are free to the community. Price $30, $20 for students and $10 for adults.
When: Saturday, December 6. 11am - 8 pm
Where: Bradenton Riverwalk. 452 3rd Ave W. Bradenton, FL 34205
Atomic Holiday Bazaar
Shop local at this annual indie-arts festival featuring unique arts and crafts by local and traveling artists alike.
When: Dec 6 & Dec 7. Noon to 5 pm
Where: Sarasota Municipal Auditorium
Sarasota Annual Parade
The 19th annual Sarasota Holiday Parade kicks off at 7 p.m. on Main Street in downtown Sarasota. Highlights include lighted floats, marching bands and Santa Claus.
When: Saturday, Dec 6 at 7 pm
Where: Downtown Sarasota
The Colors of Christmas
Colors of Christmas brings together 4 of music's most dynamic voices in an electrifying evening of holiday celebration. Featuring the captivating voices of: Grammy Award-winner Peabo Bryson; Tony Award-winner, Jennifer Holiday; Season 2 American Idol champion, Ruben Studdard; and singer-songwriter, Taylor Dayne, the evening highlights the joy and love of the holiday season.
When: December 10. 8 pm
Where: Van Wezel Performing Arts Hall
Sarasota Ballet Sir Frederick Ashton's La Fille mal Gardée
Ashton's La Fille mal Gardée is an entirely new version of a ground-breaking story ballet, premiered in Bordeaux a fortnight before the 1789 French Revolution.
When: December 19-20
Where: Van Wezel Performing Arts Hall
Sarasota Boat Parade
The 29th Annual Sarasota Holiday Boat Parade of Lights. The best areas for viewing are Marina Jack Restaurant, Bayfront Park, City Island and Centennial Park.
When: Saturday December 13, 2014 beginning at 6:00 p.m
Christmas in Candy Land
Relish timeless holiday traditions and support the Make-A-Wish foundation at Christmas in Candy land, an unforgettable celebration of holly and hope. Quench your nostalgia and satisfy your sweet tooth at this family-friendly event. Walk down Candy Cane Lane to meet Santa, paint your face like an elf, decorate cookies, and feed your Yuletide appetite. This tinsel town will be chock-full of interactive activities, decorations, treats, and a healthy helping of holiday spirit.
When: Saturday, December 13. 11 am – 2 pm
Where: Michael's on East ballroom from
In This Issue:
Message from Bev
Marketing on All Devices
Holiday Home-Selling Tip
Real Estate Market Update
Upcoming Events
6 Reasons To Choose The Murray Group
What Type Of Seller Are You?
Siesta Key Update
Siesta Key
359 Homes For Sale
$1,349,736 Avg. Price
2,106 Ave. Sq Feet
Home to a spectacular white sandy beach which earned the coveted title of "Number 1 Beach in America" in 2011, Siesta Key is the most family-oriented of Sarasota's barrier islands. The heart of the key is the relaxed but hopping Siesta Village, jam-packed with outdoor eateries, funky stores and ice cream shops.
read more